E-commerce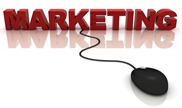 You work hard to keep your business, and your investment running smooth everyday of the
week. Receiving more orders, and growing your business would be great!
Add a web based cart system to sell your products online, or interact with larger e-commerce
platforms like Ariba.  Our staff has developed a cost effective Punchout program
for businesses like yours to provide Ariba buyers a better online purchasing experience.
By "Punching Out", Ariba and government E-Procure buyers can access your business website
to purchase your products directly. What is the advantage you ask?
For starters, Punchout sites are highlighted in the buyer's marketplace.
When a buyer connects, the process to locate your products becomes a quick task for the buyer.
In some cases buyer searches can locate thousands of matches that they will have to go through
to find the desired product.
"Punchout enabled" businesses narrow the search process by as much as 60% allowing buyers
to focus on your commodity code and product descriptions.
Start developing new business relationships in Ariba and NC E-Procure today!
If you are currently satisfied with your present web service, the Punchout cart can be added as
a service on our servers as well. Host-Tek offers businesses a professional hosting and web
development service backed by IT professionals.
As developers, we are interested in our client's business growth and internet marketing needs.
I can provide many additional services to get you the best possible return on your website
investment.
Contact us today here for a no obligation analysis or a no cost trial on our high speed
servers we think you will love the improvements in your site and e-mail performance.
Thanks for your time, I look forward to hearing from you soon.